Digital Instant Read Meat Thermometer, 2019 UPGRADED 100% IP67 Waterproof Ultra Fast Candy Cooking Food Thermometer with Bottle Opener, Backlight & Calibration for BBQ Kitchen Grill Smoker Thermometer.
Auto-off Digital Meat Thermometer, Instant Read Food Cooking Thermometer with 4.6" Folding Probe for Outdoor Cooking Grilling Kitchen Baking Waterproof Thermometer with Backlit Magnetic.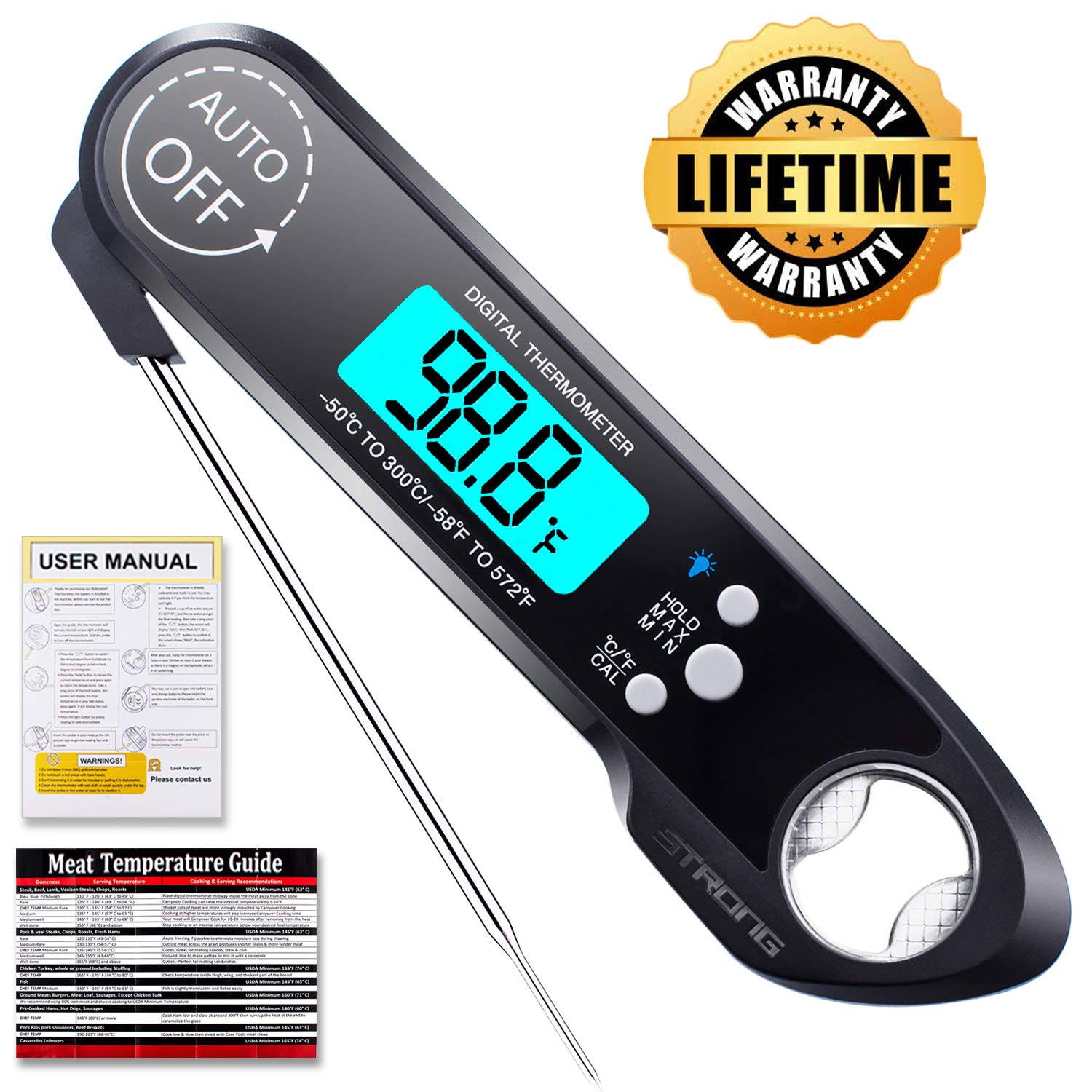 Fast & Accurate】Get a temperature in a little as 2-3 seconds, and is accurate to +/-0.1 degrees with a wide range of -58℉-572℉(-50°C ~ 300°C). No more waiting over a hot stove or grill for the temperature to settle! Take out the guesswork and eliminate overdone or undercooked food, and instead make perfectly cooked beef, chicken, pork, fish, lamb, or turkey, every time! Also works great with beverages, deep frying, making candy, and baking

【IP67 Waterproof & Bottle Opener】Our Cooking Thermometer Probe is made from food grade stainless steel. Read exact temperature to make perfectly cooked beef, turkey, fish, lamb, pork or chicken every time. Kitchen Thermometer is perfect for baking, frying.There is bottle opener function of this thermomter for BBQ party.

【Perfect Indoor or Outdoor Use】Whether you're cooking in the kitchen, grilling on your Weber or Char-Broil, or sitting around the campfire, this tool will take your culinary skills to the next level! Beef, chicken, pork, turkey, fish, you name it. We've got you covered. Gas, charcoal, electric, infrared. All barbeques will bow to your command! It even works great for deep frying with oil, making bread and cheese, and brewing beer or wine

【Large LCD Screen Digital Kitchen Thermometer】Backlit screen make it easy to be read even at dark condition. Convenient to switch F / C on the switch button. Hold button to keep the reading.With an internal magnet and large hang hole, you can conveniently store this where you can have easy and quick access.Ultra-safe folding design & auto shut off after 10 min. Smak Instant Thermometer case is made of strong ABS plastic
We have searched through the instant read thermometer currently on the market.

unstable quality, not waterproof, the food temperature is unreadable after only a few months of usage.

Our company's goal is to provide fast, reliable, and waterproof food thermometer for our customers, while quick and responsive service is even more important.
We make extra efforts to find a manufacturer who focuses on enhancing their product quality.

2019 Upgraded Cooking Thermometer.

✔ Uses 2019 upgraded probe and chip, measures temperature more quickly/accurately/with more stability. 2-year usage period with no need for calibration.
✔ Uses the newest IP67 waterproof design, you can safely wash the entire casing. FDA, CE, and RoHS certified. Ensures that your food is safe and clean.
✔ Enhanced interior craftsmanship, we have strengthened the joint between the probe and casing, and have improved all aspects of the thermometer's interior.
✔ Enhanced external product quality, we only use higher-quality and eco-friendly ABS plastic for the entire thermometer casing.

Additional Functions:
- Unique bottle opener design
- Large and clear backlighted screen
- 10-minute auto-off function
- Pre-calibrated
- Two strong magnets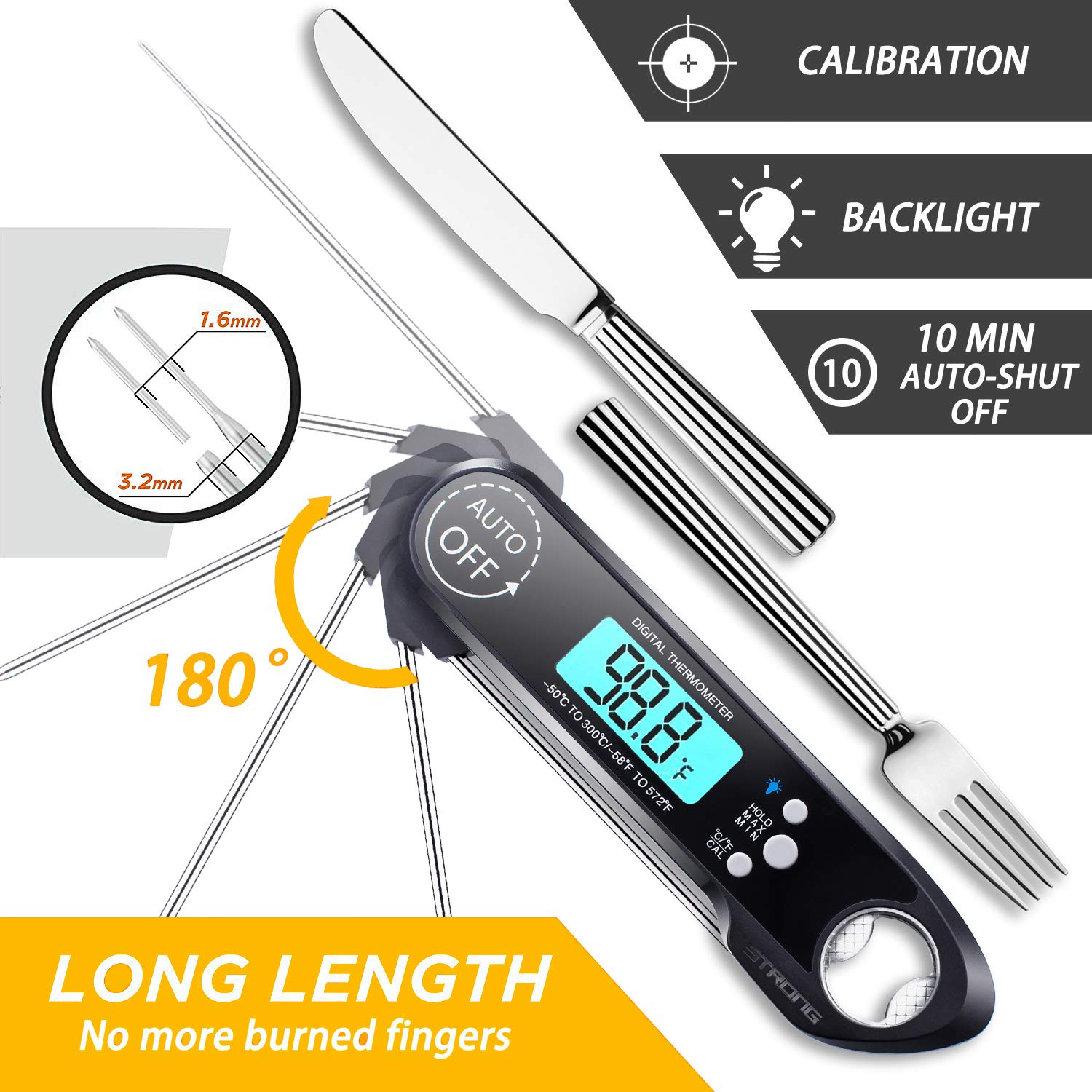 Tired of overcooking or undercooking your meats and food or waiting for your outdated thermometer to finally get a reading?
Featuring a Ultra Fast Premium Probe
Capable of taking temperatures in as little as 2 seconds with an accuracy of +/-0.1, cook your meats, baked bread, deep fried foods, candy, soups, and beverages perfectly everytime!
WATERPROOF Body
IP67 rated waterproof, the Acuhome thermometer can be washed under running water without fear!
Convenient and Clear
Get the temperature by the bright and large LCD screen instead of fumbling with your phone flash to get a read!
Easy Storage Design
Enjoy all the benefits of a long temperature probe without all the storage hassles.
The thermometer can fully retract, making for easy & safe storage.
The thermometer also has a internal magnet and large hang hole so that it can be stored up on the refrigerator or hanged up on kitchen hooks.
Auto-OFF
Worry free use, featuring a convenient battery saving auto-off when probe is retracted or after 10 minutes have passed without activity.
Calibration
Comes expertly pre-calibrated, but can re-calibrated anytime to assure only the most accurate reads with the Zero Degree Calibration Function
Fully Bundled Package Includes :
Premium gift box package. Makes a great gift for home chefs, bbq lovers, Mom, and Dad!
Meat temperature guide and easy to follow graphical user manual.
1*Pcs 3V CR2450 batteries(1 inside thermometer and 1 extra for later use).
1*Auto-off Digital Meat Thermometer
1*small tool to open the battery compartment.