Our Factory ,Xi'an Cabin Kitchen Wares Co., Ltd .We are a professional Bluetooth-BBQ-Grill- Meat Thermometer/Wireless Probe Thermometer/Meat Temprature gauge /Oven GrillThermometer/ manufacturer and supplier in Xi'an, China. A mold company Origin, And also have strong R&D support for the new series meat thermometer,grill thermometer.
We mainly specialize in all kinds of bbq thermometer,wireless meat thermometer,food thermometer, Meat Temprature gauge,grill/oven thermometer, BBQ tools, especially bluetooth BBQ thermometer is our bes-seller product,all of products based on our own professional factories and accessories from long-term relationships with associates.
We have ever been working with many European, North American and the Australian customers in helping them source high quality and competitive-price products in China, including many OEM&ODM projects. You may be eager to buy from China factories directly with better prices and quality, but faced problems like communication barrier, unqualified production, late delivery, etc.We are endeavour to solve these problems.
When search for a perfect product and partner can be really tiring and awkard things.That is why we try to make everything easier for our customers and partners.
Do you want to experience something new ?
Finding a perfect products or get a permanent discount with benefits. You will appreciate how much time you can save in your search of the pefect produts.
At our company you will easily find a product to your taste.

We provide VIP service to all our customers.What we always focus on is "To Make It Simple","To make it easy". All this for making your business easier.
We have always endeavoured to be a real solution provider as well as a consultant for our customers to solve a problem.

Our Misssion To help business owners, entrepreneurs and small buyers around the globe maximize the source of products to help them grow.

We appreciate your interest in Xi'an Cabin Kitchen Wares Co.,LTD
For General Inquiries, please contact us at info@cabinkitchenwares.com.

For Products inquiries, please check our Company's Page or contact us at sales2@cabinkitchenwares.com / sales3@cabinkitchenwares.com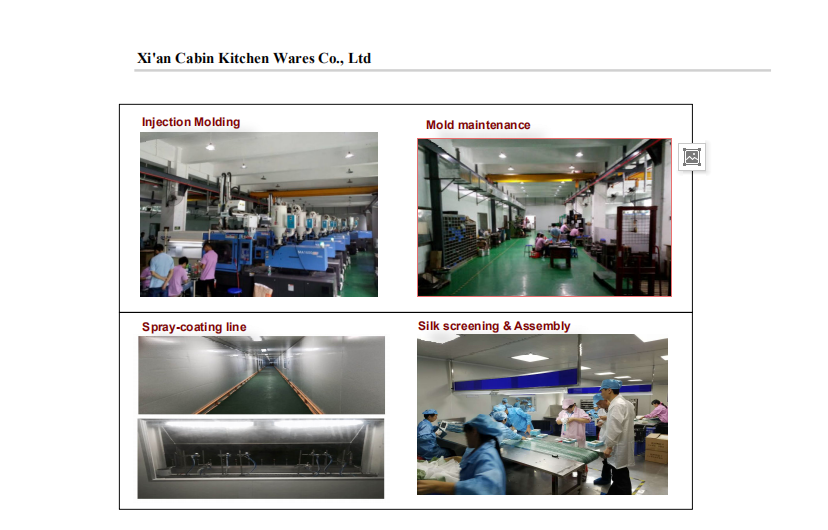 Injection workshop equipment list.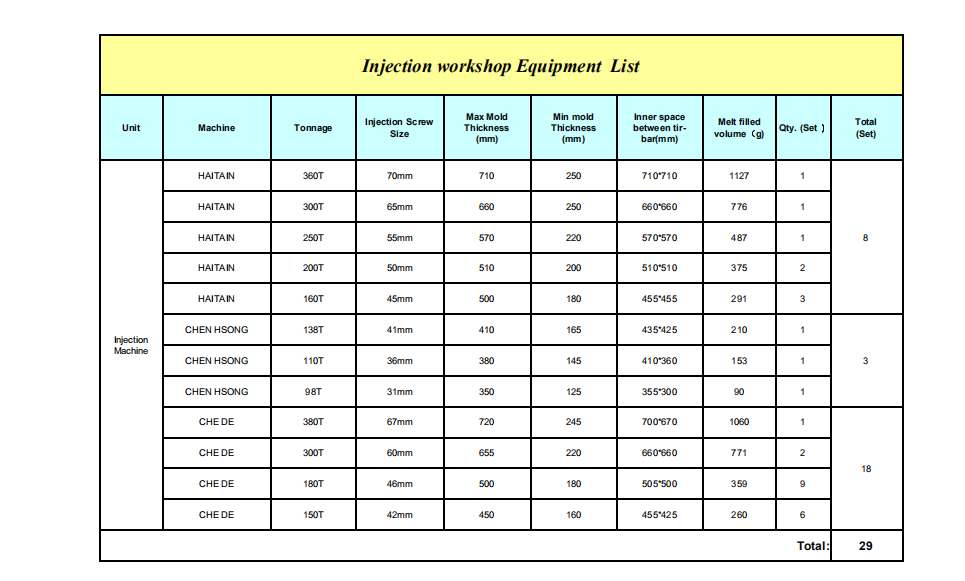 Mold Shop Facilities.